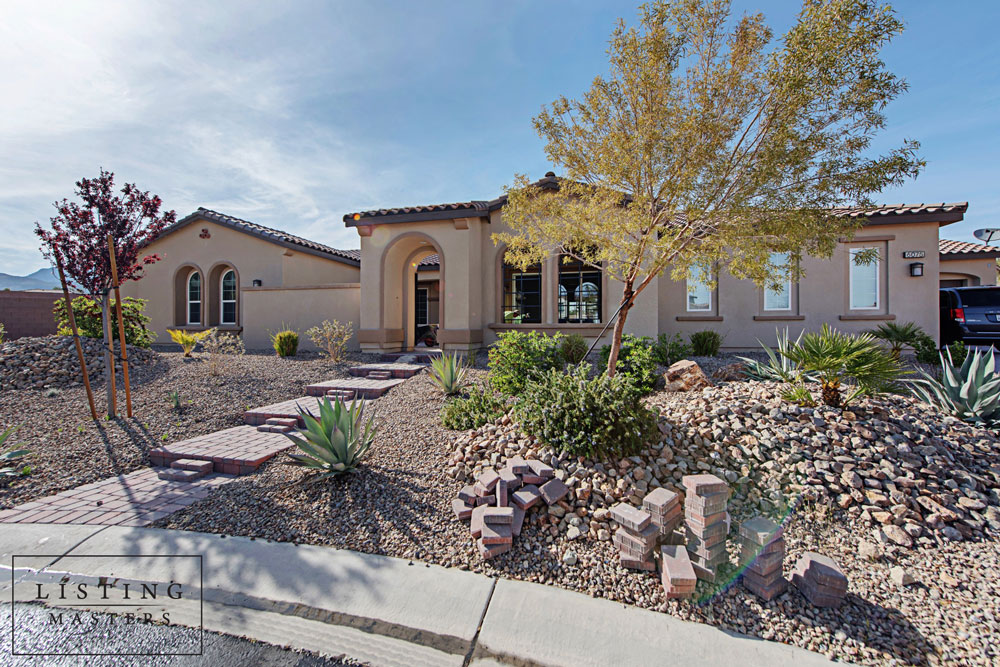 Megan was repelling with a group during a leisure climb when her cable broke. She fell 50ft shattering her leg and suffering significant damage to the rest of her body. After her recovery, the couple left Oregon and headed to Las Vegas. They needed to be surrounded by family. Although Megan did suffer permanent damage from her fall, she received compensation large enough to find her and Adam their luxury home in Las Vegas.
Adam and Megan packed their bags and relocated to Las Vegas. Along with their four kids, they were in search of a large home with space for everyone. With a budget of a million dollars, they began to search. After scouring the entire city, they could not find one home worth that asking price. Everywhere they looked they saw outdated homes. Adam and Megan were devastated. All they wanted was to start over. Listing Masters helped them do just that.
Listing Master transforms outdated homes
Knowing that so many homes in the valley are outdated, we suggested homes under their price range that had good bones. With a little vision, we found one on Gabrielle Carol Ct. This house was nearly 4,000 square feet and had a lot of land. We helped them decide on a $700,000 property that needed work. We offered to place $200,000 in renovations on top of their already budgeted $300,000. The home was on a ½ acre of land with a great shell. There were four bedrooms and enough living space for everyone in their family. Adam and Megan loved the size but had a difficult time seeing what this property could become. They were also concerned that all of the changes would cost too much and take forever to finish. However, that was not true.
Our Listing Masters team had access to licensed remodeling professions that included a skilled construction crew and top of the line designers. We could heavily discount our labor cost and offer all materials at cost instead of the high retail price. We also had could dedicate our crew to finishing their home in just a few weeks.
Remodel your outdated home on our dime
Aside from re-budgeting their money, it was also difficult for them to look past the outdated counters and cabinets. The couldn't imagine the potential the master bathroom had either. The handicap tub shower combo in one of the bathrooms almost made them second guess the entire house. Our Listings Masters team knew exactly how to handle it. We didn't want Adam or Megan to compromise on their home. So, we called in a professional designer and laid out the plans. The couple was relieved and excited to see their dream come to life.
In our plan to turn this house around, we showed Adam and Megan the vision they were missing. We planned to change all the flooring to lighter, wood laminate. We wanted to lighten up the kitchen as well by swapping out the countertops and repainting the cabinets. In a few other areas throughout the house, we planned to add some artistic details as well. We took everything they loved and used it as inspiration for their home. Finally, Adam and Megan began to see. They agreed to move forward with this house and use the remainder of their budget to renovate.
We'll give you the vision you're missing
Motivated with a new vision, we partnered with our Kingdom Home team and got to work. We started with flooring. The old flooring was too dark. We swapped it for a multilayered wood laminate that immediately lightened the entire house. Keeping up with the trend, we added white panels in the main living areas.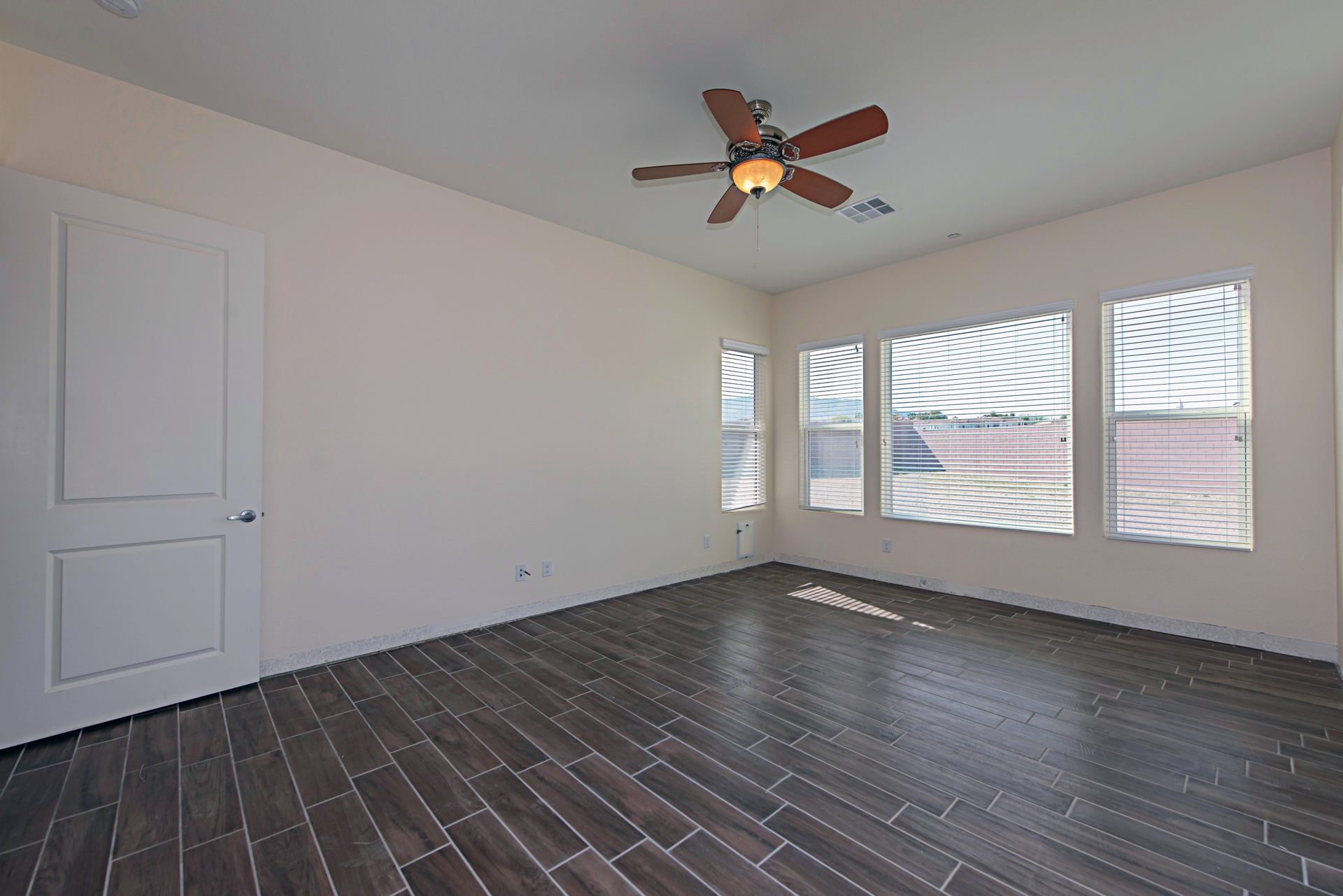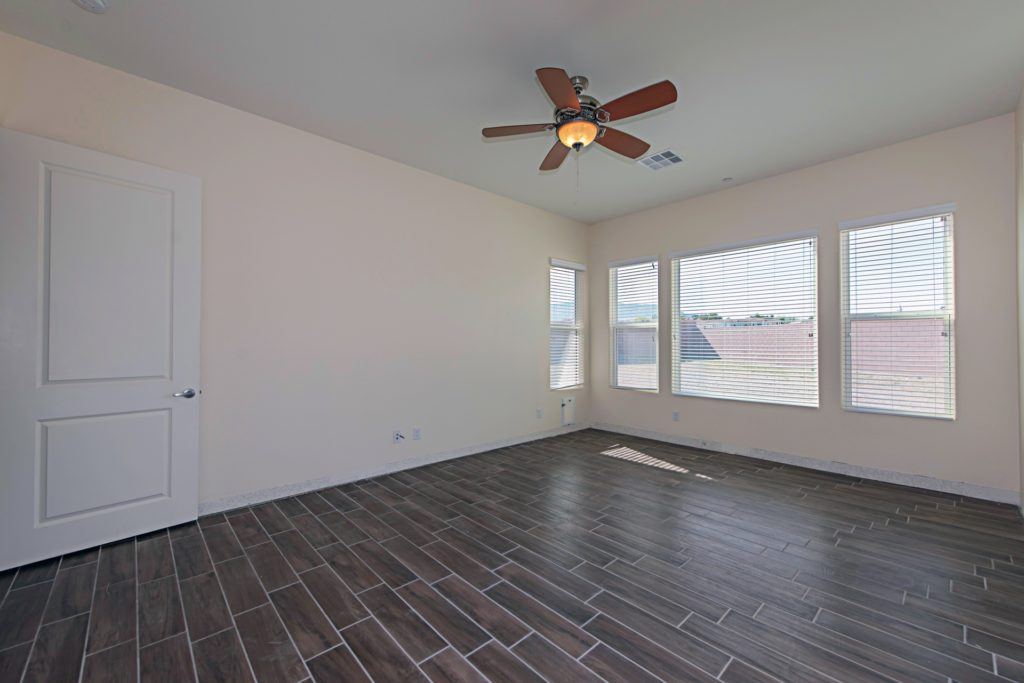 Once the gutting process began, we decided to make a change that saved $10,000. The original structure had a column we had planned to remove and replace with a low-bearing wall. After seeing the entire scope, our professionals suggested keeping the column and modernizing the design. Adam and Megan were pleasantly surprised with the savings and design.
Next, we had to tackle the bathrooms. In the secondary bathroom, we revised the previous walk-in tub to a full shower. We stripped the old marble tile and replaced it with modern, gray slabs. On the shower floor, we added a hexagonal tile pattern. This paired perfectly with the similar pattern we placed above the sink and quartz countertops. Adam and Megan couldn't believe their eyes.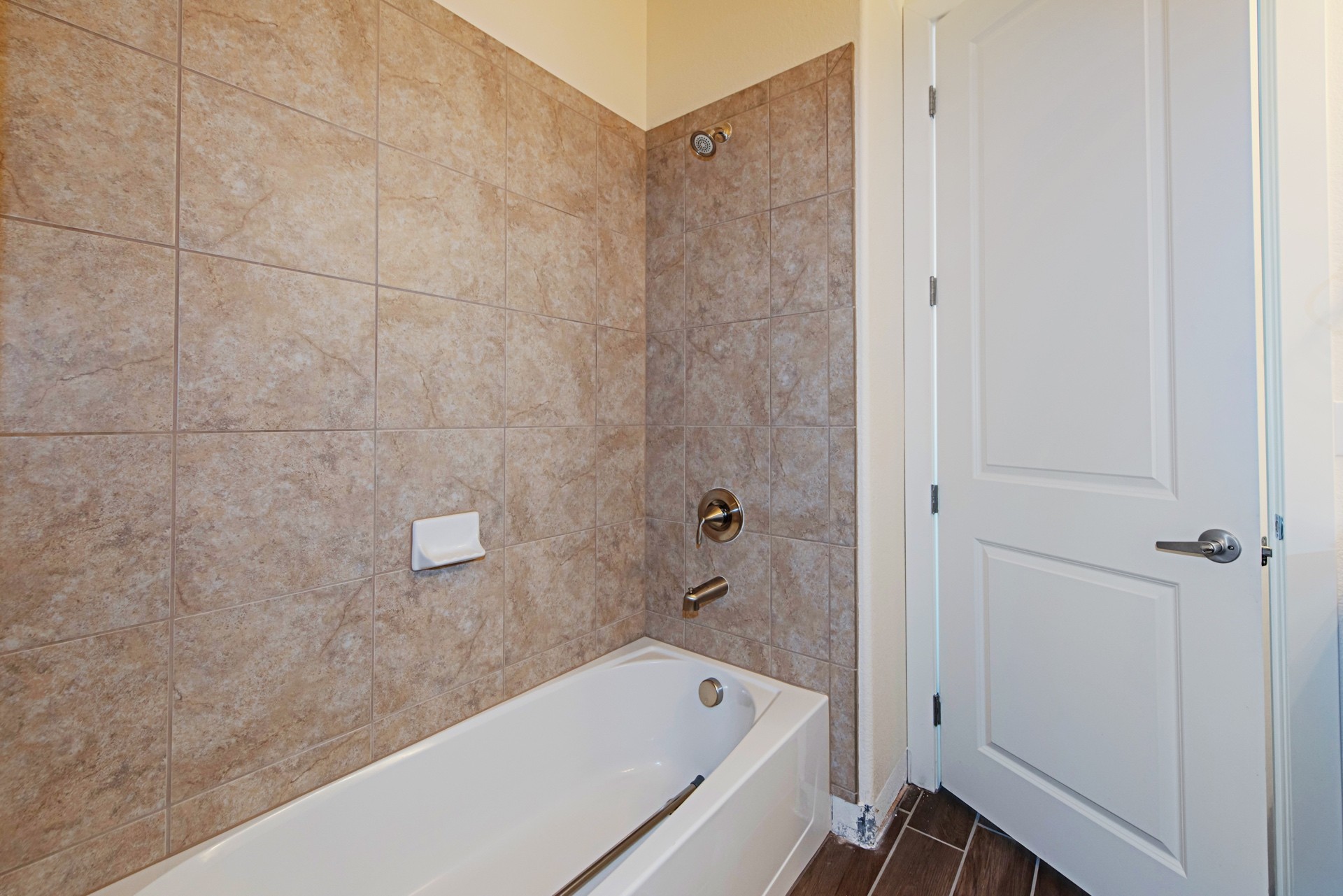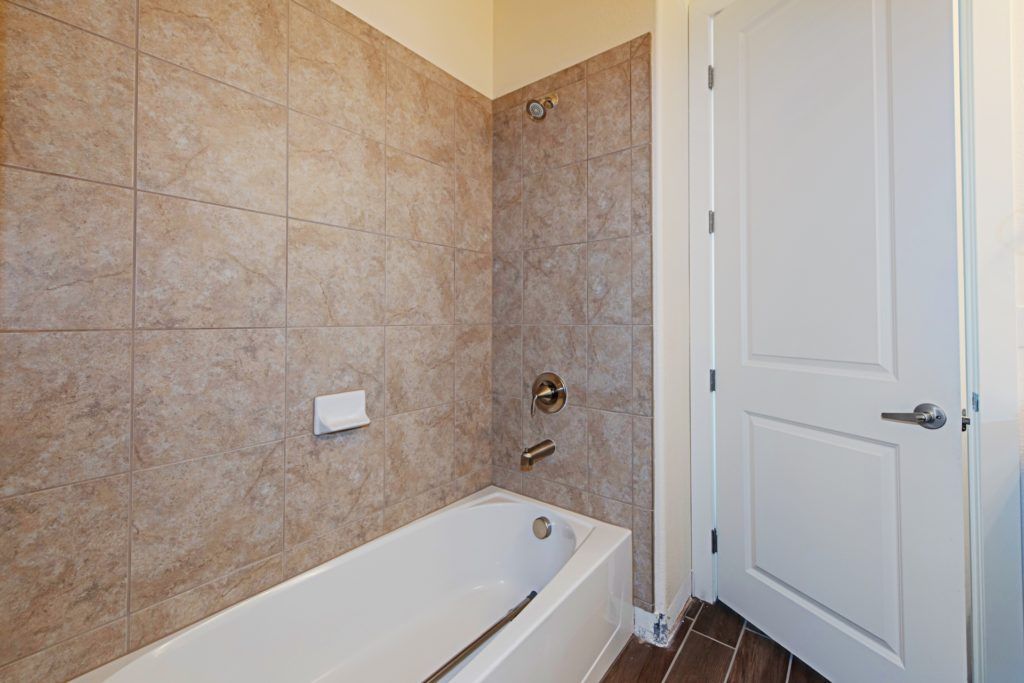 As we moved through the rest of the house, they watched their dream home come to life. In the additional guest bathroom, we dropped the same quartz counter in but added rectangular pattern above instead. We wanted to give this bathroom a little more flair. So parallel to the toilet, we installed wood panels from floor to ceiling. It instantly gave the house the cozy, farm feel Adam and Megan were hoping for. Since they loved it so much, we mimicked it in their final guest bathroom. After seeing these areas, they couldn't wait to see their master bathroom transformed.
Bathrooms and floors make a big difference
Previously, the master bathroom had endless dark wood and an outdated marble tub. Our first order of business was to replace the tub. We completely removed the old garden tub and replaced with a square soaking tub. We decided to change the orientation as well to allow for a modern chandelier to hang above. Opposing the new tub, we installed quartz countertops and an artistic backsplash. These new designs brought a new, modern feel to this dated bathroom. But our team didn't stop there. We wanted to build a bathroom Adam and Megan would love. In the walk-in shower, we retiled the floor and walls and included a smaller tile design to make the space pop.
We continued with this same enthusiasm to the kitchen. Knowing that the family would spend a lot of time in this room, we wanted to make it functional and roomy. We swapped out the old granite for a light quartz on the countertops. We added a few cabinet doors and repainted everything. On the island, we chose a modern gray and paired it with white throughout the rest of the kitchen. Up the walls, we installed a unique stone backsplash to add even more depth. The new fixtures and lighting were also black to match the rest of the house.
We're pros in shocking before and afters
The house was almost ready for the big reveal. We had just a few more final touches that would blow Adam and Megan away. In the living room, we re-stoned the fireplace and installed a white brick design on the adjacent walls. On the ceiling above the front door, we layered dark, hickory wood and modern lighting. In a few other areas, we added accent walls and wooden nooks.
Through this process, we transformed this outdated house into a luxury home Adam and Megan deserved. We were able to stay within their budget without compromising their desires. At the final reveal, Adam and Megan were speechless. This boring, outdated house now felt like their home. They could imagine making memories with their kids here. Listing Masters didn't just renovate a house. Our team made their relocation seamless and delivered their dream home.
Ready to find your dream home? Contact us and connect with us on social!