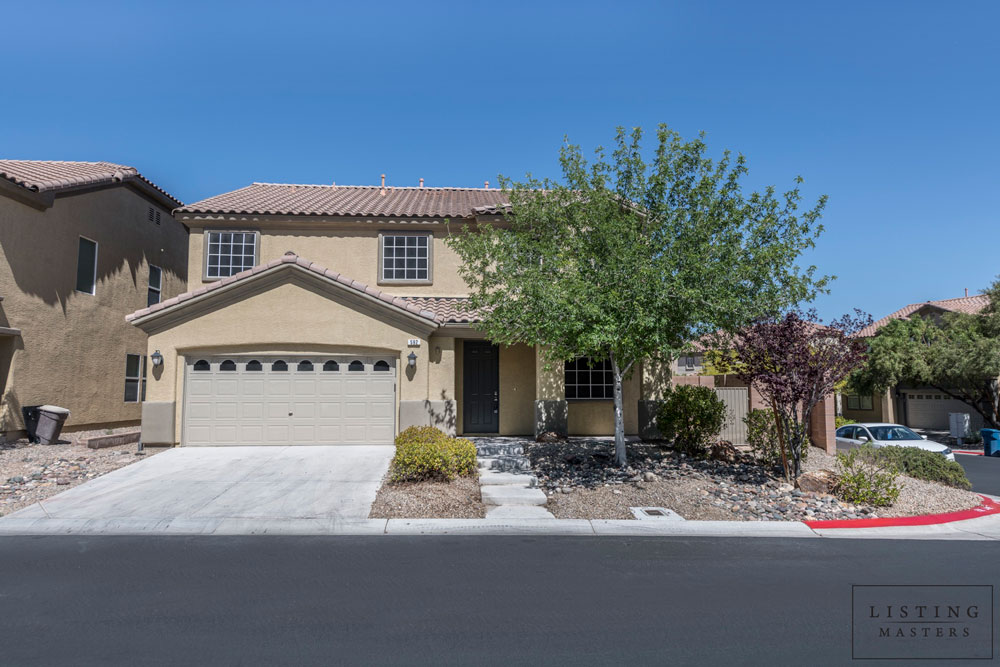 Owning multiple properties can be exhausting. Managing one home you live in while responding to issues in a home you're renting is stressful. Toni and Jake were feeling this same real estate exhaustion when we first met them.
How do I sell the home renters destroyed?
They were finally fed up with renters. For years, they'd been renting their home out and hadn't had any trouble. Most of their residents were cleanly and hardly needed Toni or Jake to repair something in the house. These last renters were completely different. For example, neighbors had been complaining about them for months. After that, Toni and Jake had to make an executive real estate decision and evict them. The renters were not happy and had some choice words for Toni and Jake. But after a full 30 days, they finally left.
At first, Toni and Jake were relieved. Their horrible renters were finally out and they could move on. But when they came by to get the house ready to rent again, they were disgusted by the condition of their home. The previous renters were hoarders. They had left junk everywhere! The walls reeked of smoke and the carpet had a nose-burning, pet urine smell. Toni and Jake were stunned. They didn't even know where to start. On top of the trouble with their renters, they now had an even bigger problem with the actual condition of their home. They wanted to get rid of it altogether. Toni wasn't convinced that they could get any money out of this trashed home. That's when Jake found Listing Masters.
What if construction costs too much?
During their free consultation with one of our real estate professionals, we helped Toni and Jake see that there was an option they hadn't considered. Instead of throwing this house away for a low price, we offered to renovate it and help them make more money. Toni was still very concerned about the cost. "What if construction costs too much? This place is a mess."
No job is too big for our team. In our decade of renovating and selling homes, we've completed every single project quickly and efficiently. To help ease her mind, we offered to upfront the cost of all the repairs. We'd even manage the renovation and bring in our designers to help redo the entire home. This way, every part of the real estate remodel would drastically increase the value of this home and decrease Toni and Jake's stress. Toni still had more questions. "How do I know that the changes you are making will actually make us more money on the selling price?"
How do I know I'm getting value?
So we explained it this way. We have an experienced real estate analytics team who knows the science behind maximizing values. Our experience has helped us understand that most homes are just $5,000 away from making $10,000. We guaranteed that Toni and Jake would sell their home for at least $20,000 more after we made simple renovations. Finally, we sold them and they gave us the green light to get started.
Our plan for renovating this home was very defined. Right off the bat, we knew that this house needed new paint, carpets, cabinets, baseboards and upgraded countertops and bathrooms. The layout of their home was a little cramped as well. We suggested creating a more open floor plan to help all the living areas flow together.
Who manages my real estate renovation?
So we started cleaning and began managing every detail of the repairs. There was leftover trash in nearly every room. The renters even left an old couch adding to the putrid smell coming from the carpets and walls. The backyard was left untouched and needed decluttering as well.
We next moved on to opening up the first floor. Two pony walls separated the kitchen and living room. With an already small space, these walls were making both rooms feel cramped. Our renovation team decided to remove them. It instantly added several feet of space to both sides.
Then, we changed the flooring throughout the first level. The old flooring was half brown tile with stained grout and half old carpet. In all aspects, it was out of date. We replaced it with a rich, wood laminate to offset the neutral color we planned for the walls.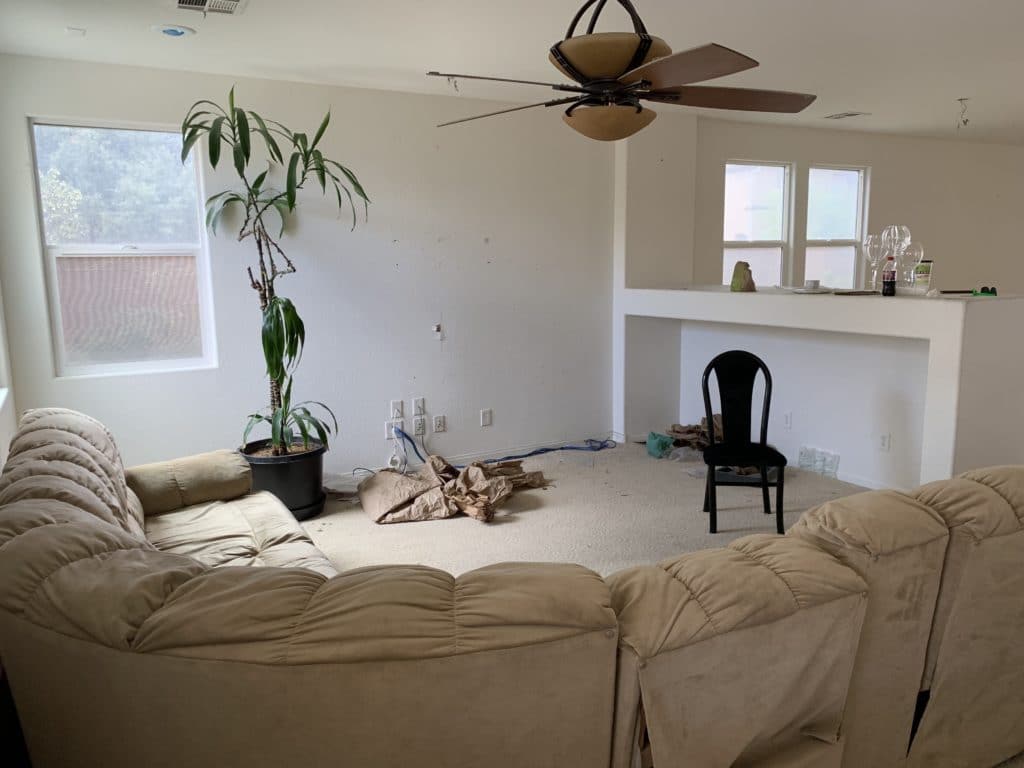 The real estate renovation continued in the kitchen. The cabinets were an old, rounded oak that was falling off of the walls. We rebuilt it with sturdier materials. Our professional cabinet designer installed a brand new set and painted it white. On the countertops, we installed an off white quartz. To add a pop of color, we added a large island and painted it a deep blue. The before and after is shocking.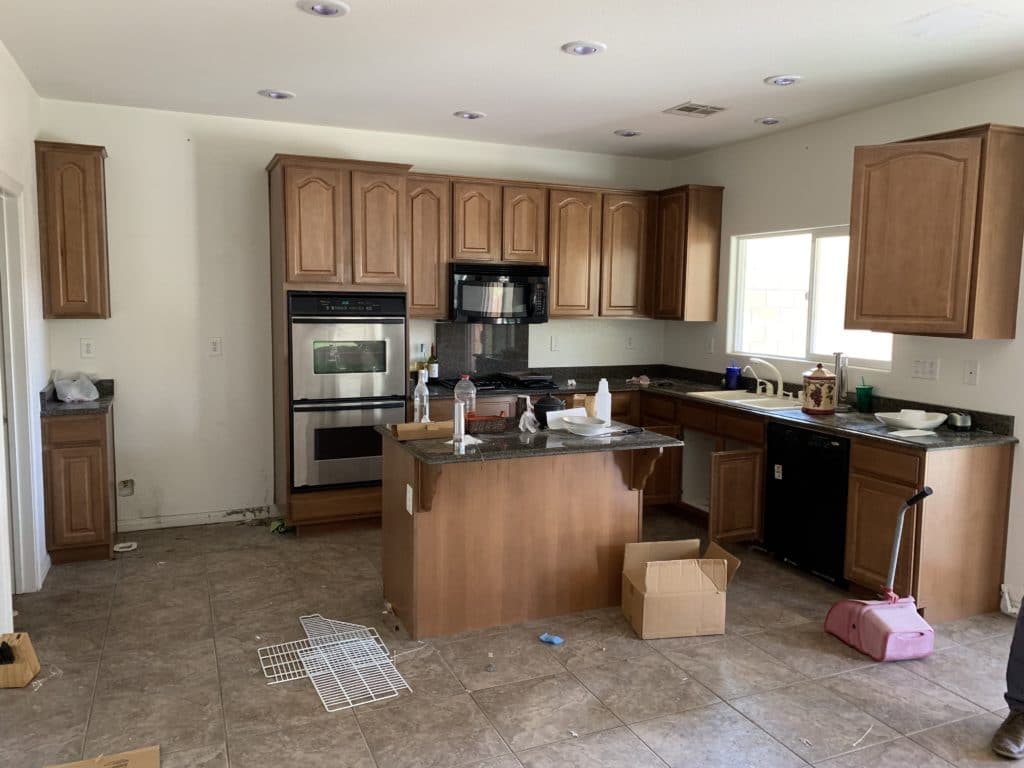 The renters stained the old carpets. They were beyond cleaning. On the staircase and throughout the second floor, we installed brand new carpet.
The secondary bathrooms also needed some help. We swapped out the old oak cabinets for fresh all-white ones and replaced the countertops. The flooring also modeled the kitchen and living room.
How much more will I earn?
The master bathroom was the biggest change of all. Previously, it held a builder grade walk-in shower and tub. The floors were ancient and cabinets were the same oak color. Our plan completely transformed this room. We installed a light gray tile on the shower and bathtub walls. On the counters, we installed a light quartz to match the kitchen. We also replaced the flooring with the same wood laminate and changed the cabinets to white.
We topped the entire property off with a fresh coat of paint inside and out. Toni and Jakes's destroyed home had been completely restored. They were finally ready to list it. Within days, they had received an offer. It was thousands more than what they originally hoped for! Quickly, Toni and Jake had closed on their old home and we lifted their burden.
Thanks to our real estate and renovation team, Toni and Jake didn't have to worry about anything. We handled every detail of the remodel and selling process. From paying for labor and supplies to managing the final sell, we were able to offer them our all-in-one expertise.
Ready to update and sell your outdated home? Contact us for a home remodel and connect with us on Facebook and Instagram.